Welcome to Hervey Bay Vet Surgery
Hervey Bay Vet Surgery started with Dr. Ron McKay, who provided excellent vet care to the Hervey Bay area for over 20 years. Dr. Ron still drops in to visit from time to time but these days, Dr. Megan Devlin and Dr. Louise Barbesgaard have taken the reins and are providing personalised veterinary care for their patients. Megan is experienced in small animal surgery, rehabilitation, emergency and medical cases. Louise is an experienced equine vet and is doing small animal consults and surgery.
Together with their friendly, knowledgeable support team, Megan and Louise, are striving to provide a high standard of veterinary care for their clients and their patients. They offer routine consultations, vaccinations and check ups and they provide professional, up to date advice when a pet is unwell.
As a clinic, we offer:
Vaccinations and routine health checks
Emergency consults
Small animal surgery; including desexing, soft tissue surgery, abdominal surgery and more
Equine consults, health care packages and some surgical procedures
Dental care and dental procedures for both small animals and horses
Treatment for a range of conditions including but not limited to; arthritis, injury, ear and skin problems, behaviour, gastrointestinal upset
We can also offer more complex surgery (depending on the case) including orthopedic surgery
We are looking to add more veterinarians to our team but in the meantime, we will occasionally have a locum vet in clinic helping us out. Our vets are popular and can book up quite quickly, please call us early so we can plan and schedule an appropriate appointment time for you.
BEST FOR PETS
Best for Pet is a fantastic pet health care plan that we offer in clinic. It is similar to our previous CritterCare program with some added and alternative benefits. Best for Pets members receive free consultations and get some great discounts on their pets health care. To learn more, ask for more information next time you are in the clinic. 
CONSULTATIONS BY APPOINTMENT
We run our consultations by appointment. If your pet requires vet attention, please call (07) 4124 4679 to speak with one of our team members to book a time. If you would like a specific vet or if your pet has a specific problem, please be sure to let us know so we can provide tailored care for you and your pet.
EMERGENCY
If it is within our open hours and your pet is in a critical condition or you believe they need URGENT care please call (07) 4124 4679. We can provide emergency care but in these situations, we appreciate a phone call to let us know you are coming so we can prepare appropriately for your pets arrival. There may be rare situations where we do not have a vet available, if you call first we can give you the information you need to get your pet seen as soon as possible. The vet clinics in Hervey Bay work together to provide an after hours service to our area. This means that it may be a different clinic on call, depending on which night of the week it is. If you believe your pet needs urgent care at a time when the clinic is closed, please call (07) 4124 4679 and the recording will provide instructions on who to call.
FACEBOOK
Please like and keep an eye on our Facebook page for updates and information.
BIRDS AND SMALL MAMMALS
We often get asked whether we do consultations for exotic pets like birds, rats, reptiles and guinea pigs. These animals are not our specialty. We are happy to provide basic vet care, by appointment only, to these pets but if you want in depth, experienced advice for exotic animals we suggest you look for a veterinarian with a special interest in the species of animal you own.
Hours of Business:

7:00am – 5:00pm Monday - Friday

Saturday 8:00am – 1:00pm

After hours emergency on-call 24/7, 365 days a year – on rotation with all other Veterinary Surgeries in Hervey Bay.


Announcements:

On Saturday 22nd of July we will have no vets in clinic. We will still have two lovely nurses available 8am to 1pm. If you pet requires veterinary attention on Saturday, please contact one of the other wonderful Hervey Bay clinics.
Appointments - we are trying really hard to give everyone the appointment of their choice. At the moment, we are experiencing a nation wide vet shortage. If you need to book your pet in for a vaccination or any other routine care, we suggest you book in early. There can be a wait time for routine appointments. For any more urgent consults, please call us as soon as you notice your pet is unwell.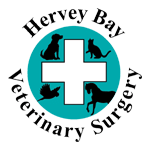 Check our Facebook Page for latest update.