Welcome to Hervey Bay Veterinary Surgery
"We Care About You And Your Pet"
We pride ourselves on providing a caring, compassionate and safe environment for your best friend.
Dr Ron McKay, BVSc and his associates have been providing gold-standard veterinary care to the animal population of Hervey Bay for over 20 years. Caring for all creatures great and small, Dr McKay and his team have continued to update and upgrade the practice to ensure only the latest and best medical practices are adhered to.
We would like to thank all clients who have been and are still apart of our CritterCare program. As it currently stands, we are not going to be able to continue to offer this program. There is no need to worry if you are already a CritterCare member, your discounts and special prices will still be honoured until your subscription runs out. We are not putting through any new subscriptions or renewals for the time being. This change supports our interest in looking after all of our clients and their pets equally. In the future, we may restart a program that gives very similar benefits to this program and we will keep everyone updated as to when this is up and running. 
Hours of Business:

7:00am – 5:30pm Monday - Friday

Saturday 8:00am – 1:00pm

After hours emergency on-call 24/7, 365 days a year – on rotation with all other Veterinary Surgeries in Hervey Bay.

Announcements:

To give our staff a well earned break

We will be CLOSED on the following dates:

Saturday 18th March

Friday 7th April through to Monday 10th April (inclusive) - Easter

Tuesday 25th April - ANZAC Day
Our staff here at Hervey Bay Veterinary Surgery are dedicated to providing the best possible service and experience for your best friend!
Our team are caring and compassionate, and highly skilled in dealing with all types of concerns.
Each of our team members has their very own area of interest and expertise, including avian and exotic medicine and care, dentistry, critical care, large animal care and laboratory diagnostics.  They go out of their way to advance their knowledge with continuing education courses, seminars and external training.
If they don't have the answer you are looking for, they will know where to find it!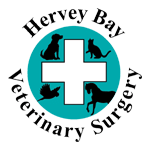 Check our Facebook Page for latest update.