Welcome to Hervey Bay Veterinary Surgery
"We Care About You And Your Pet"
We pride ourselves on providing a caring, compassionate and safe environment for your best friend.
Dr Ron McKay, BVSc and his associates have been providing gold-standard veterinary care to the animal population of Hervey Bay for over 20 years. Caring for all creatures great and small, Dr McKay and his team have continued to update and upgrade the practice to ensure only the latest and best medical practices are adhered to.
Hervey Bay Veterinary Surgery offers a membership programme to help our clients spread the ever-increasing costs of routine care over the course of the year.
This programme includes annual vaccination, microchipping, routine blood and urine testing, parasite testing and, depending on your pet's age, either desexing or dental cleaning.   It also offers great discounts on flea, tick and worm prevention, as well as further discounts on non-routine medical treatment and medications.
Hours of Business:

7:00am – 5:30pm Monday - Friday

Saturday 8:00am – 1:00pm

After hours emergency on-call 24/7, 365 days a year – on rotation with all other Veterinary Surgeries in Hervey Bay.

Announcements:

Saturday 10th December - CLOSED - Christmas Party

Saturday 24th December through to 27th December (inclusive) - CLOSED for

Christmas Break - one of our other Hervey Bay clinics will be on call

for emergencies, please call for details of on call vets over this period

Normal trading hours 7am to 5:30pm Wed 28th Dec to Friday 30th December.

We will be closed to normal trading over the New Year Public Holidays

but will be ON CALL for emergencies.
Our staff here at Hervey Bay Veterinary Surgery are dedicated to providing the best possible service and experience for your best friend!
Our team are caring and compassionate, and highly skilled in dealing with all types of concerns.
Each of our team members has their very own area of interest and expertise, including avian and exotic medicine and care, dentistry, critical care, large animal care and laboratory diagnostics.  They go out of their way to advance their knowledge with continuing education courses, seminars and external training.
If they don't have the answer you are looking for, they will know where to find it!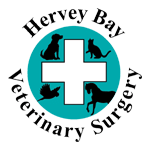 Check our Facebook Page for latest update.